Published: Tuesday, January 29, 2019 11:10 AM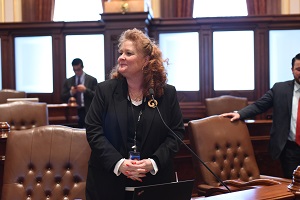 SPRINGFIELD – State Senator Laura Murphy was named chair of the Senate Committee on Commerce of Economic Development, a committee that evaluates the benefits of bills regarding businesses and economic issues.
"I am thrilled to be the chair of a committee that is vital to the economic health of Illinois," said Murphy, a Des Plaines Democrat. "I look forward to working with the business community to encourage their continued investment in Illinois, and I am committed to tackling issues that make Illinois the preferred location for economic development and commerce."
This is the first time Murphy will serve as chair of a Senate committee. The Senate Committee on Commerce and Economic Development will typically meet at 9 a.m. on Thursdays when the Senate is in session.