Published: Wednesday, October 12, 2016 04:22 PM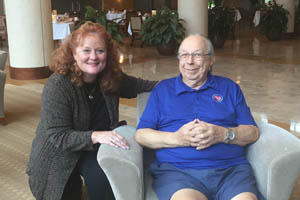 When 91-year old Leroy Wolff received a letter in May stating nearly $40,000 in stock he owned had been transferred to Illinois' unclaimed property division, he didn't know where to turn.
"The letter stated the account had been determined to be inactive due to correspondence from the company being returned," Wolff said. "It didn't make any sense."
After trying to resolve the issue to no avail, he spoke with State Senator Laura Murphy (D – Des Plaines) at an event held at Friendship Village of Schaumburg, where he resides.
While it is still not known why the company transferred Wolff's stock to Illinois' unclaimed property division, known as I-Cash, Senator Murphy's staff was able to assist Mr. Wolff in filling out the necessary paperwork to return the stock.
"Unfortunately, Mr. Wolff's situation happens too often to too many people," Murphy said. "It is imperative we look out for our seniors and do everything to protect their finances from potential scams and misallocations. I am happy we were able to assist and get property that is rightfully Mr. Wolff's returned to him."