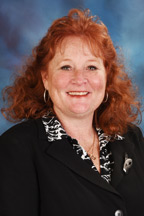 Born into a middle-class family in Park Ridge, State Senator Laura Murphy (D-Des Plaines) graduated from Illinois State University with a bachelor's degree in political science. She spent the last 20 years as an active member of the Des Plaines community, including eight years as an alderman for the city's 3rd Ward.
Murphy has over two decades of experience in health care and social services management. As a member of the Illinois Liquor Control Commission, she worked to educate youth on alcohol and tobacco prevention.
Murphy was appointed to the Illinois State Senate in 2015 to represent the 28th Senate District. That district neighbors O'Hare International Airport and includes all or parts of Arlington Heights, Des Plaines, Elk Grove Village, Hanover Park, Hoffman Estates, Mount Prospect, Park Ridge, Rolling Meadows, Roselle and Schaumburg.
In 2020, she was appointed Deputy Majority Leader of the Senate. Then, in 2023, she was appointed Assistant Majority Leader. Murphy also serves as chair of the Committee on Executive Appointments, and as a member of the Committees on Appropriations, Assignments, Executive, Higher Education, Labor, Local Government, Public Health and Transportation
Her working-class background and previous professional experience inform her views on government as an entity that should work toward the betterment of the people and reinforce her belief in the importance of education, public safety and fighting corruption and waste in state government.
Senator Murphy lives in Des Plaines with her husband and son.