Published: Tuesday, September 12, 2017 04:34 PM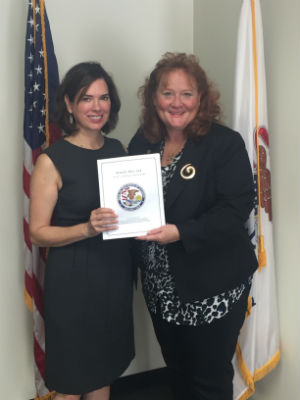 SPRINGFIELD – State Senator Laura Murphy (D-Des Plaines) hopes to increase the rate of early detection of breast cancer in Illinois under a new law she sponsored. Senate Bill 314 requires insurance companies to cover an MRI if a patient is diagnosed with dense breast tissue which can be an indicator of cancer.

"Early detection is a key element in the fight against breast cancer," Murphy said. "By requiring insurance companies to cover MRIs in patients with dense breast tissue, we are arming doctors with another tool to help them detect breast cancer sooner."

Studies show that dense breast tissue can be up to six times more likely to develop cancer. An MRI can find an additional 8 percent of breast cancers that go undetected by mammograms and ultrasounds. According to a study by the Illinois Department of Public Health, 26 women are diagnosed with breast cancer in Illinois each day.

"I am so grateful that Senator Murphy Sponsored 'Linda's Law' - Bill 314," said Linda Joseph, the constituent who encouraged Murphy to sponsor this legislation. "It is all about educating women about their breast health and being their own advocate."

"During my annual mammogram, I asked for additional screening as I have dense breasts which make it difficult to detect abnormalities in the breast," Joseph said. "My radiologist didn't request a second screening, my gynecologist didn't request a second screening - I requested a second screening. My mammogram was 'perfect' - the second screening was not. Women with dense breasts need to be aware of the need for second screening whether it is ultrasound, ABUS or MRI as it helps with early detection. Do not be afraid to ask for a second screening. This is your life."

This law goes into effect on Jan. 1, 2018.