Published: Monday, September 25, 2017 11:04 AM
Murphy will seek to override Rauner's veto of Senate Bill 321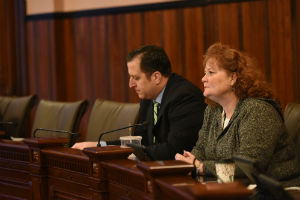 State Senator Laura Murphy (D-Des Plaines) plans to file paperwork to override the governor's veto of Senate Bill 321, which would require the auditor general to audit the Medicaid managed care program that is run through the Department of Healthcare and Family Services.

"I am very disappointed that Gov. Rauner put a multibillion dollar industry before the needs of taxpayers and Medicaid recipients," Murphy said. "This legislation would ensure that Medicaid managed care organizations meet its contractual requirements, provide the best service possible to recipients, and that our tax dollars are being wisely spent."

Performance audits can only be conducted at the request of the General Assembly or the Audit Commission and generally take one year to complete. The auditor general completes financial audits yearly and compliance audits every two years for most agencies.

"The governor's veto is evidence that he is protecting this multibillion dollar industry," Murphy said. "It raises the question – what is he hiding?"

Senate Bill 321 passed both chambers unanimously.