Published: Tuesday, April 17, 2018 05:28 PM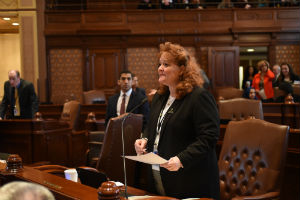 Employers may see lower workers' compensation premiums under a measure backed by State Senator Laura Murphy (D-Des Plaines) which passed the Senate today.

"Despite a successful workers' compensation reform package being implemented in 2011, insurance companies have immorally been pocketing savings rather than passing them on to employers," Murphy said. "Today I pushed back on the status quo and supported a measure that would incentivize insurers to reduce premiums for business owners."

Senate Bill 2863 requires insurance companies to pre-file rates with the Department of Insurance. If an insurance company would like to change that rate, it must provide justification. The legislation also clarifies that for an injury to be covered by workers' compensation there must be a fundamental connection between the injury and the employment.

"We have a lot of work to do to reinvigorate the economic climate of Illinois," Murphy said. "I hope that the governor will support this measure to help businesses across the state."

Additionally, Senate Bill 2863 implements electronic billing for claims and creates a penalty for an extended delay in authorizing medical treatment.

Senate Bill 2863, which is identical to House Bill 2525, passed the Senate today and now advances to the House.