Published: Wednesday, August 22, 2018 08:46 AM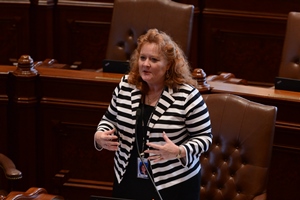 SPRINGFIELD – To increase the donor pool of a lifesaving medical procedure, a new law sponsored by State Senator Laura Murphy will increase awareness of bone marrow donations in Illinois.
Senate Bill 3062, which was signed into law today, requires the Department of Public Health to develop and disseminate information about the National Bone Marrow Donor Program. The informational materials will talk about the existence of the program and how to join it, the need for bone marrow donations, the types of patients who benefit from bone marrow donations, and how to acquire free swab kits in order to self-test one's compatibility as a donor.
"Bone marrow donations are often critical in treating life threatening forms of cancer for many patients across the state," said Murphy, a Des Plaines Democrat. "By requiring the Department of Public Health to distribute information, it allows people who might not even be aware of their ability to become donors in the first place to save lives by making crucial and much-needed donations of bone marrow."
The law allows for the information to be spread through talks, in print, electronically, or by any other method. It passed through the Senate and the House with bipartisan support and is effective immediately.