Published: Friday, August 24, 2018 06:03 PM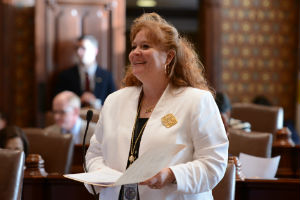 DES PLAINES — Hitting the jackpot and winning more than $250,000 from the Lottery will no longer automatically cost you your privacy under a new law sponsored by State Senator Laura Murphy (D-Des Plaines).
"Not everyone wants the fame that comes with winning a large prize from the Lottery," Murphy said. "Illinois Lottery winners should be able to keep their information private if they so choose.
Currently, Lottery winners' names, city of residence, date the prize is won and amount of winnings are matters of public record and are therefore subject to public disclosure laws. Under Senate Bill 211, Lottery winners of more than $250,000 can submit a written request that their identity be kept confidential.
Additionally, this new law creates a new scratch-off for homelessness prevention programs.
This legislation, which was signed into law today, takes effect immediately.