Published: Wednesday, January 09, 2019 03:51 PM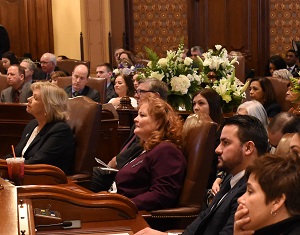 SPRINGFIELD – State Senator Laura Murphy (D-Des Plaines) welcomed several new members to the Senate today after their inauguration into the 101st General Assembly.
"I would like to extend my sincerest congratulations to the newest members of the Illinois Senate," said Murphy, who begins the third year of her current term. "I can't wait to start digging in and solving problems."
Despite the enthusiasm, Murphy recognized the need to take things slowly.
"It's important that both new and experienced members show some patience in the coming months," Murphy said. "There are a lot of problems to fix, but with a new governor on the way, we now have a path to start tackling these issues."
The 101st General Assembly will serve until January 2021.