Published: Monday, February 11, 2019 04:27 PM
Murphy: We are a family; when someone is in need, we step up to help them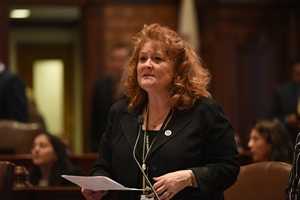 DES PLAINES – State Senator Laura Murphy (D-Des Plaines) is looking for answers and a long-term solution to what happened at the local mobile home park near Elk Grove.
During the polar vortex, pipes froze and burst, leaving some residents of the mobile home park without clean water for almost two weeks now.
"There is no reason that it should be taking this long to ensure that the residents have clean water," Murphy said. "These residents need clean water to bathe, care for their pets and do daily household chores like laundry or washing dishes."
State Representative Marty Moylan, Cook County Commissioner Kevin Morrison and State Senator Laura Murphy's offices took action immediately when they received news about this water crisis.
The Illinois Beverage Associations and Great Lakes Coca-Cola company donated 240 cases of water to the mobile home park last week, which was delivered by administrators from Elk Grove High School. Zeman Homes also provided water for residents to pick up at their on-site management office.
"I want to applaud everyone involved who worked tirelessly to provide clean water to the residents," Murphy said. "Seeing everyone come together, including the residents who took action when it was needed the most, is the reason why I love representing our district. We are a family and when someone is in need, we step up to help them."
There is currently action being taken to repair the busted water pipes, but some residents are still without clean water.
Murphy wants to take the necessary steps to fix this problem and to ensure that this does not happen again. Her and her staff plan on meeting with residents of the park and working with the Manufactured Home Owners Association of Illinois to discuss legislation and the need for reform.