Published: Monday, April 01, 2019 11:14 AM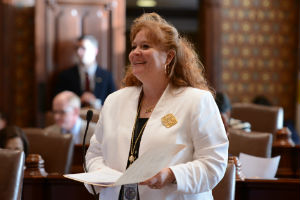 DES PLAINES – To help make roads safer, State Senator Laura Murphy (D-Des Plaines) advanced legislation last week that would require the Illinois Department of Transportation to look further into fatal car accidents that involve a pedestrian.
Murphy's measure would require IDOT to conduct a traffic study after any fatal accident involving a pedestrian and release the results of that study to their website. This is the first step and starts the process to make changes to improve the safety of all people.
"It's important that we are constantly looking at ways to improve safety in our communities," Murphy said. "Road safety is important, but sometimes people forget about pedestrians and their safety. We need to become more pedestrian friendly and find solutions to why these accidents continue to occur."
Senate Bill 1200 passed through the Senate unanimously last Thursday and now moves to the House for consideration.