Published: Thursday, April 11, 2019 05:14 PM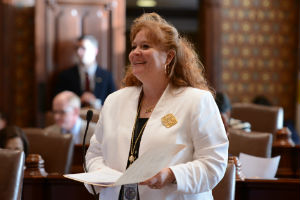 SPRINGFIELD – A measure that passed out of the Senate today will add an extra protection for victims of domestic violence, thanks to Des Plaines Democrat State Senator Laura Murphy.
Senate Bill 399 would allow an address to be omitted from documents filed in court if disclosing the address would risk abuse or harm. The victim would also be protected from having to include a domestic violence safe house address or an address that was changed as a result of a protective order.
"It's already hard enough for victims to take that first step and get out of their situation," Murphy said. "They shouldn't have to live in fear after being brave enough to get away because of the possibility of their address being released by a legal official."
Murphy's measure is in response to an incident where the judge included the address of the domestic violence safe house in a court order between the abuser and the victim regarding custody over their child.
Senate Bill 399 passed the Senate with unanimous bipartisan support and now moves to the House for consideration.