Published: Wednesday, May 29, 2019 02:40 PM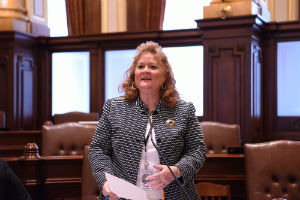 SPRINGFIELD – State Senator Laura Murphy (D-Des Plaines) is working to fight human trafficking in Illinois by requiring more training on the issue as well as creating stronger penalties for the crime.
She advanced legislation today that would create the Lodging Establishment Human Trafficking Recognition Training Act, which will require hotels and motels to train employees on how to recognize human trafficking and how to alert authorities.
"Hotels and motels have been shown to be popular locations for human trafficking," Murphy said. "If we want to combat this issue head on, we have to ensure that hospitality staff are educated, aware and putting forth a conscious effort to save victims and catch traffickers."
Murphy's measure also requires the Illinois Law Enforcement Training and Standards Board to provide training for police officers to detect human trafficking.
"I don't think we should stop here," Murphy said. "Human trafficking is unlike any other crime. It involves the selling of humans. Everyone needs to be educated on this growing epidemic because it doesn't just happen behind closed doors; it can be anywhere."
Senate Bill 1890 passed both chambers with bipartisan support and now awaits action by the governor.