Published: Monday, June 03, 2019 09:34 AM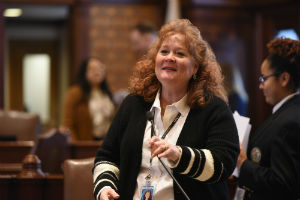 SPRINGFIELD — State Senator Laura Murphy, a Des Plaines Democrat, supported a balanced budget plan that protects the middle class and continues the state's trend of making its annual pension payments.
"This budget begins Illinois' path to stability," Murphy said. "It prioritizes spending on programs that will help working and middle class families and responsibly allocates funds for our annual obligations."
"Over the past four years much instability occurred in this State due to the lack of a budget. Social service agencies were starved. Our seniors, children and the disabled received the brunt of this dysfunction. I am happy to say that has changed under this new leadership".
This budget includes a $50 million increase to the Monetary Award Program (MAP), which makes college more affordable and accessible for everyone in Illinois.
"We saw that after two years without a budget, Illinois students were leaving the state in large numbers to pursue their college education elsewhere," Murphy said. "Many of them don't return, representing an enormous brain drain with significant financial implications. I hope this continued investment will encourage more students to stay in Illinois to attend college."
The budget also fulfils the state's annual pension payment obligation and buts a dent in our backlog of unpaid bills.
"The state made a promise and should keep that promise when it comes to pensions," Murphy said. "This has been an issue for far too long, and I am happy to see that this budget meets the financial obligation it promised."