Published: Tuesday, February 23, 2016 04:55 PM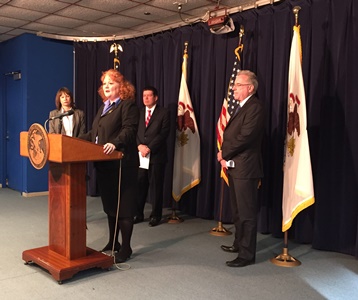 Chicago - On Tuesday, a group of legislators from Chicago and the suburbs announced their bipartisan effort to help bring relief to the more than one million residents impacted by adverse noise from O'Hare International Airport.
According to Rep. Christine Winger (R-Wood Dale) many constituents have suffered the endless noise from O'Hare for many years. Others are experiencing the excruciating ill effects of aircraft noise for the very first time with the addition of the newest runway that opened last October. Still more can expect to join the ranks of those enduring aircraft noise when future runways become operational.
"Our constituents are discouraged by the seeming lack of concern by the Chicago Department of Aviation and the FAA," said Winger. "Their daily lives are in the hands of these two entities whose missions, quite frankly, do not include protecting the health and quality of life of area residents. That's why we need to get involved."
State Representative Michael McAuliffe (R-Chicago) and Senators Laura Murphy (D-Des Plaines) and John Mulroe (D-Chicago) joined Rep. Winger in outlining their legislative plan that would reduce the noise level from O'Hare, help constituents soundproof their homes and identify the ill effects of O'Hare on the people living in the communities impacted by noise.
"Every day I hear from my constituents about the difficulty of living near O'Hare because of recent moves being made beyond their control, said Rep. Michael McAuliffe. "We're calling on our friends in the legislature to help us fight on their behalf."
The group of legislators has been working with others whose districts are impacted by O'Hare for nearly a year, strategizing on legislation that would be most effective in meeting their goals.
According to Rep. Marty Moylan (D-Park Ridge) who could not attend the press conference but who has been working with the group, "These proposals represent a chance for lawmakers to set aside differences in Springfield and provide some meaningful relief to the families struggling with the burden of increased noise from O'Hare Airport."
The recently introduced proposals include:
HJR128 – Urging Chicago Airport officials to use latest technology to measure noise and compliance of airlines to Fly Quiet protocols. Also, urges the consideration of Fly Quiet compliance in the allocation of departure gates and support facilities. Calls for a measurable improvement in Fly Quiet compliance by January 1, 2017.
HR960 – Calling upon the Federal Aviation Administration to assist the City of Chicago in the implementation of the provisions of SB636 and to use new CNEL data to promptly redraw contour maps as new airport noise data is submitted. (Senator Murphy will be introducing the Senate version.)
HB5917 – Creating an income tax credit for the purchase of soundproofing materials for eligible homeowners.
HB5040 – Requiring the Illinois Environmental Protection Agency to conduct a study on the environmental and human health impact of runways and air traffic at O'Hare Airport.
HR1023 – Urging the Chicago Department of Aviation to adopt the Suburban O'Hare Commission Recommendations for Fly Quiet enhancements. (Senator Murphy will be introducing the Senate version.)
"These recommendations are a good first step toward solving the noise pollution problem plaguing our communities," said Senator Laura Murphy, who is also sponsoring similar legislation in the Senate. "I look forward to continuing to work with the Chicago Department of Aviation and the FAA to finally bring peace and quiet to area families."
The bipartisan group plans to indefinitely continue their ongoing collaborative effort to provide relief for families impacted by adverse noise from O'Hare.
"We are committed to working together to find solutions," said. "Our constituents deserve no less."