Published: Monday, April 20, 2020 11:48 AM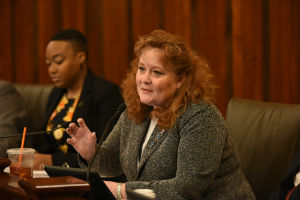 DES PLAINES – The North West Housing Partnership in Schaumburg has been awarded $460,000 in grant funds to help area homeowners with repairs, State Senator Laura Murphy (D-Des Plaines) announced Monday.
"People are spending more time at home during the COVID-19 crisis, which makes home repairs all the more urgent," said Murphy. "Especially during a time when many families don't have much savings to fall back on, I'm glad to see that there is help available."
The North West Housing Partnership, which serves the West and Northwest Suburbs of Chicago, is one of 25 local governments and non-profit organizations in the state to receive funds from the Illinois Housing Development Authority Board of Directors. The group awarded $11 million statewide through the state's Single Family Rehabilitation Program. The lump sum is projected to help at least 326 low- and very low-income families with necessary home repairs.
The Single Family Rehabilitation Program provides forgivable loans of up to $45,000 per household to assist with necessary repairs to remove documented health and safety hazards. Eligible repairs include roofing, flooring and plumbing, among others.
A roof-only option is also available for people who do not need other repairs. Those recipients are offered up to $16,500 to militate against future roof damage.
"The North West Housing Partnership has already made a difference to so many families in our community. With these funds, they can keep up the good work and help even more households," Murphy said. "If your home is in need of maintenance, I encourage you to apply."
Households can apply for grants by contacting the North West Housing Partnership at 847-969-0561. The organization will walk residents through the application process and explain eligibility.