Published: Thursday, March 03, 2016 10:22 AM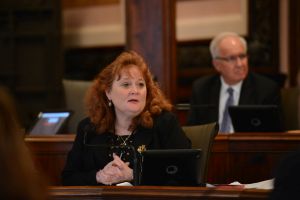 SPRINGFIELD – Several pieces of legislation passed through the Senate Committee on Higher Education as a result of the College of DuPage scandal that has unfolded over the last few months.
State Senator Laura Murphy (D-Des Plaines) was a supporter of all of the legislation, which seek to increase transparency at community colleges and cut down on expensive perks for college officials.
"Community colleges are great resources for thousands of students around the state. They are not opportunities for bureaucrats to take advantage of hundreds of thousands of dollars of student and taxpayer money," Murphy said.
The proposals will now head to the Senate floor for a vote.
Senate Bill 2155 – Requires the auditor general to audit one-third of all community colleges every year
Senate Bill 2156 – Prevents perks, such as room and board expenses, from being classified as pensionable earnings
Senate Bill 2157 – Requires four hours of professional training for new community college board trustees
Senate Bill 2158 – Prohibits community college boards from entering new employee contracts 45 days prior to Election Day for trustees
Senate Bill 2159 – Requires contract terms and annual performance reviews to increase transparency, and also forbids contract buyouts in cases of pending criminal charges
Senate Bill 2174 – Requires four hours of professional training for all voting members of a university governing board