Published: Monday, November 30, 2020 12:08 PM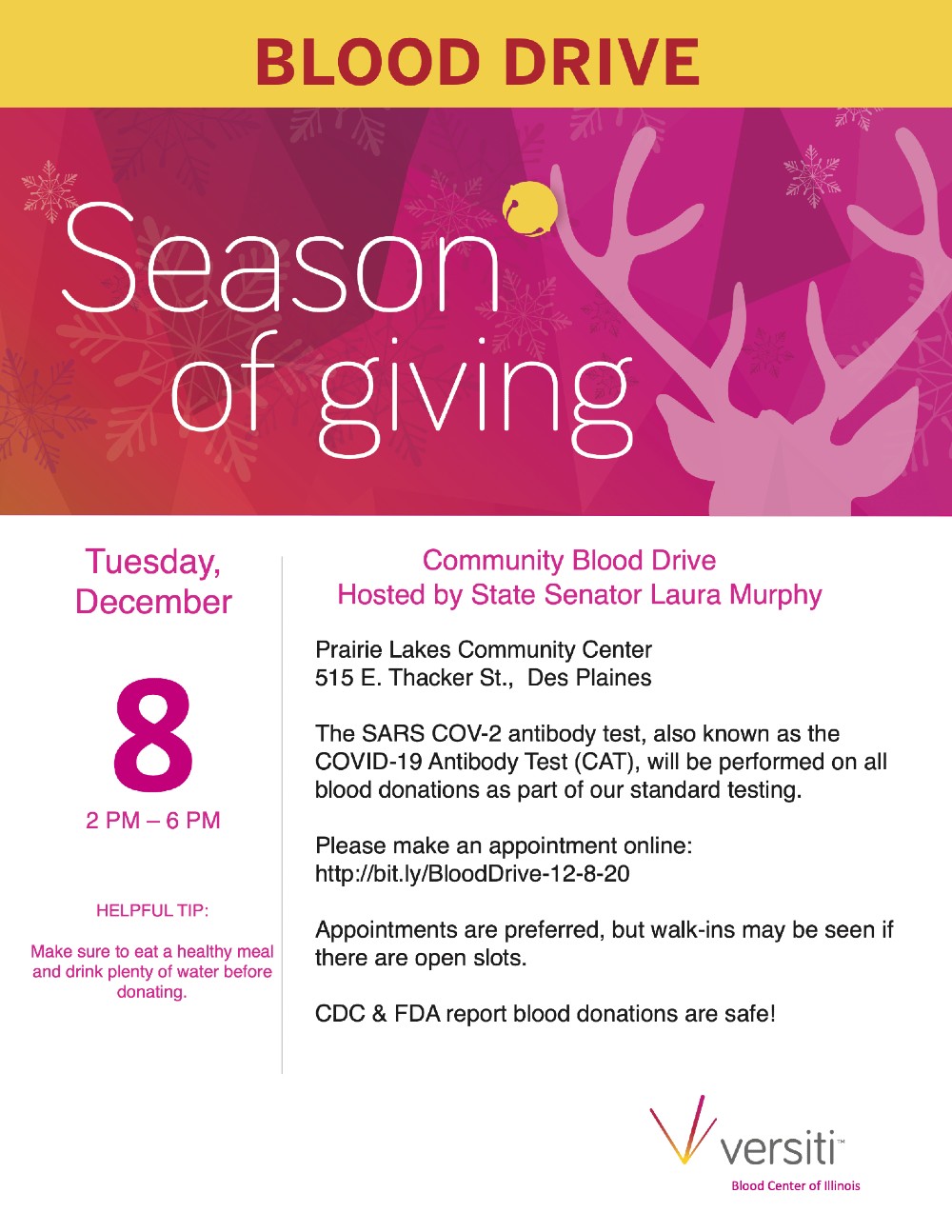 DES PLAINES – To help patients in need of donated blood and support efforts to find an effective treatment for COVID-19, State Senator Laura Murphy (D-Des Plaines) is hosting a blood drive Tuesday, Dec. 8 from 2 to 6 p.m. at the Prairie Lakes Community Center, located at 515 E. Thacker St. in Des Plaines.
"At the beginning of the pandemic, blood donations hit a critical low, putting thousands of Illinoisans at risk," Murphy said. "Now, blood donation is even more important, as researchers think it may have potential as a COVID-19 treatment. I urge anyone who is able to donate to make an appointment."
All successful blood donations will be tested for COVID-19 antibodies. Researchers hope blood containing antibodies—also known as convalescent plasma—may help treat people with severe COVID-19 by boosting their ability to fight the virus.
The Centers for Disease Control and Prevention estimates about 17.2 million units of blood are used in transfusions every year for accident victims, cancer patients, hemophiliacs, surgery patients and more. In March, the CDC issued a statement encouraging healthy people to donate blood at blood centers that adhere to public health and safety guidelines.
Murphy has partnered with Versiti Blood Center of Illinois to host the event. To ensure the safety of all staff and donors, masks will be required.
Appointments are preferred, but walk-ins may be accommodated. To schedule an appointment to donate, visit http://bit.ly/BloodDrive-12-8-20.