Published: Tuesday, June 15, 2021 11:03 AM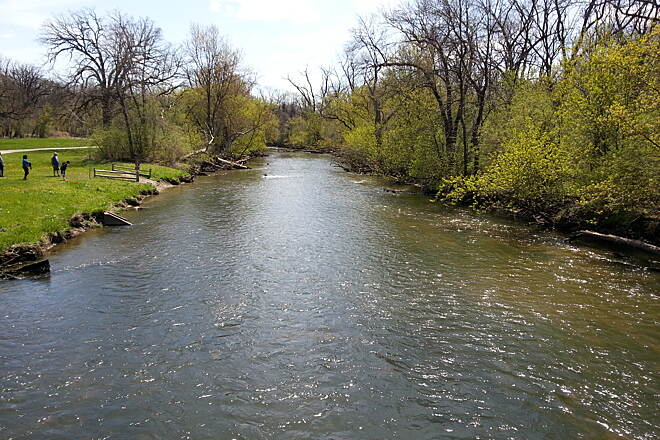 DES PLAINES – Residents of Elk Grove Village and surrounding communities will be able to enjoy safer, uninterrupted access to the area's natural wonders thanks to an upcoming $1.7 million reconstruction of Clearmont Pedestrian Bridge over Salt Creek, State Senator Laura Murphy (D-Des Plaines) announced.
"Infrastructure isn't just about roads and bridges. It's about the paths families walk and bike to school, to work or simply for recreation," Murphy said. "Safe, attractive sidewalks and bicycle paths are critical components of a well-maintained community."
The proposed improvements to Clearmont Pedestrian Bridge include replacing the existing structure with a new 14-foot-wide, 400-foot-long bridge crossing. At nearly twice the length of the existing bridge, the proposed long-span structure will touch down outside floodplain limits, allowing residents to use the bridge even during flooding.
A new creek overlook will allow pedestrians to stop and view wildlife in the area. New lighting, pathway reconstruction and drainage improvements will also help provide a safer, more attractive experience.

Clearmont Pedestrian Bridge serves Elk Grove Village and surrounding communities by providing a crossing over Salt Creek to connect to the Salt Creek Trail, Busse Wood Forest Preserve and Rainbow Falls Waterpark. The bridge also provides connectivity to the Clearmont Elementary School, Salt Creek Elementary, Grove Junior High School and Elk Grove High School, as well as several parks and recreational fields.
These improvements are funded through the Illinois Transportation Enhancement Program (ITEP), for which the Illinois Department of Transportation has selected 99 projects totaling $105.7 million. Projects receiving funding in this round of investment include biking and walking paths, trails, streetscape beautification, and other projects designed to encourage safe travel across the various modes of transportation at the local level.
Residents of the Northwest Suburbs will also see improvements to a number of other area trails for pedestrians and bicyclists through ITEP, including Des Plaines River Trail in Rosemont, County Farm Road in Hanover Park and Oakton Street Sidepath in Des Plaines.
"It's important that residents, commuters and visitors have a variety of options for getting from here to there," Murphy said. "These investments help develop a local transportation system that works for everyone."