Published: Wednesday, November 16, 2016 03:59 PM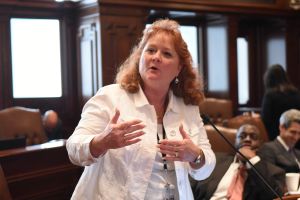 SPRINGFIELD- State Senator Laura Murphy (D-Des Plaines) voted today to override Gov. Bruce Rauner's veto of Senate Bill 250. The proposal creates an automatic voter registration system, which would allow easier access to the democratic process and significantly cut administrative costs of registering voters.
"Encouraging more people to get involved in our democratic process – at a lower cost to taxpayers – can only be beneficial to our state," Murphy said. "The governor's veto of legislation that initially received overwhelming bipartisan support is pure gamesmanship."
Under the initial proposal, Illinois citizens would be automatically registered to vote when they renew their driver's license or state ID. They can still choose to opt out of registering to vote if they wish.
The legislation will also help clean up the voter rolls by increasing the number of cross-checks the State Board of Elections must conduct between the statewide voter database and the National Change of Address Database from two to six.
The override passed the Senate with a vote of 38-18 and will now head to the Illinois House.