Published: Wednesday, July 26, 2017 12:59 PM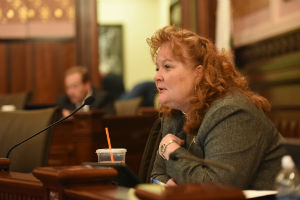 SPRINGFIELD—Legislation co-sponsored by State Senator Laura Murphy (D-Des Plaines) to freeze legislators' reimbursement rates and salaries was signed into law today. House Bill 643 passed both chambers with bipartisan support and had been on the governor's desk since June 29.

"Given the state's recent financial trouble and the fact that most working adults do not receive a cost of living adjustment, this is commonsense legislation to save taxpayers money," Murphy said. "I'm glad the governor finally signed this bill into law."

Without this legislation, per diem rates for legislators would have increased from $111 per day to $142 and mileage reimbursements would have climbed from $0.39 to $0.535 per mile.

General Assembly members have not received a cost of living adjustment since fiscal year 2009.