Published: Thursday, January 25, 2018 08:48 AM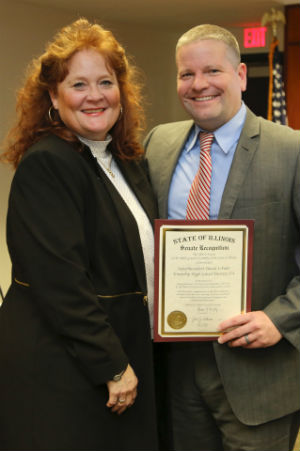 Last week, State Senator Laura Murphy (D-Des Plaines) congratulated Superintendent David Schuler of Township High School District 214 for being named the 2018 Illinois Superintendent of the Year by the Illinois Association of School Administrators.

The judges of the award consider four categories when selecting a winner: leadership for learning, professionalism, communication and community involvement.

Schuler has exemplified leadership by implementing a Career Pathways program and "Redefining Ready!" campaign within the district. These programs help students explore careers, internship opportunities, and gain college credit and industry certifications while pursuing their education. He also established an Educator Prep program to connect students who are interested in becoming teachers with resources.

District 214 is the second-largest high school district in the state. It educates more than 12,000 students through six high schools and four specialized learning programs. During his tenure, the six high schools within District 214 have been nationally ranked among the best in the country by U.S. News & World Report and The Washington Post.

"I firmly believe that education is the catalyst of opportunity for not only students, but also for their community," Murphy said.

"Under Superintendent Schuler's guidance, our students are better prepared for life after high school, whether that's college, a trade or other post-secondary options. His work as a superintendent has enriched our community in ways that will last for years to come."

Murphy thanked Schuler for his work to positively affect the lives of our students and lead our institutions of education to such levels of success. She presented him with a Senate certificate of recognition.