Published: Thursday, August 16, 2018 02:21 PM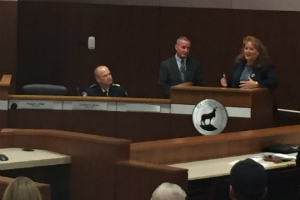 State Senator Laura Murphy (D - Des Plaines) visited the Elk Grove Village Board on Tuesday to commend them for the efforts in passing crucial public health legislation, both locally and statewide.
Senator Murphy was a proud sponsor of the legislation in Springfield known as "Tobacco 21," which prohibits the sale of tobacco products to people under the age of 21. Elk Grove Village had passed a similar law in 2017.
"If it weren't for the efforts of the Elk Grove Village Board passing an ordinance last year to prohibit the sale of tobacco products to people under the age of 21, the statewide legislation may never have had the legs to make it through both chambers and onto the Governor's desk," Murphy said. "Anyone who cares about public health in their community should be grateful for local governments like Elk Grove Village proving that a measure like this is viable statewide."
Murphy also praised the Elk Grove Village Board for implementing a program known as Elk Grove Village Cares, a program meant to curb the opioid epidemic running rampant in Illinois by providing information and help to people who are in need of it.
"The Elk Grove Village Cares program's unique approach to helping people addicted to drugs by providing compassion for, treatment of and information about their addictions is an extremely simple, cost effective way to confront the opioid crisis that is plaguing our nation, our state, and our communities head on," Murphy said.
Murphy spoke at a Village board meeting in front of Elk Grove Village Mayor Craig Johnson, Elk Grove Village Trustees and local citizens.