Published: Thursday, August 16, 2018 02:49 PM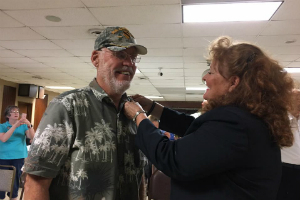 State Senator Laura Murphy (D - Des Plaines) joined Congressman Raja Krishnamoorthi on Tuesday to honor local veterans of the Vietnam War at an Elk Grove Village VFW Hall.
As part of the event, Senator Murphy presented the veterans with pins commemortating the 50th Anniversay of the War.
"It is truly a humbling experience to be in the presence of some of our country's true heroes, and it is my absolute pleasure to provide them with these pins honoring their service," Murphy said. "This pin does not go nearly far enough to express the gratitude we have for their bravery and sacrifice. Truthfully, I don't know if anything can, but that won't stop me from taking a few minutes of time each and every day to truly thank them for their service and what it means to our great nation."