Published: Thursday, November 14, 2019 05:39 PM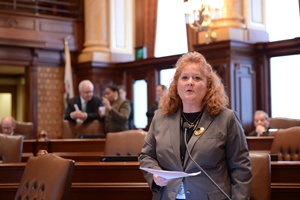 SPRINGFIELD – State Senator Laura Murphy (D-Des Plaines) voted to pass two government ethics measures today. The legislation strengthens current ethics laws and establishes a bipartisan commission to make recommendations on where the laws can be improved in the future.
"Recent events in Springfield and Washington have amplified people's mistrust in government," Murphy said. "We need to take bold steps to regain public trust and make sure that bad actors are held accountable for their actions."
Senate Bill 1639 increases what must be disclosed on a Statement of Economic Interests, requires the secretary of state to create a database of lobbyist contributions and statements of economic interests filed by state officials, and requires lobbyists to disclose their subcontractors.
House Joint Resolution 93 creates the Joint Commission on Ethics and Lobbying Reform. The commission will consist of 16 members appointed by legislative leaders, the governor, the secretary of state and the attorney general. No member may have been a lobbyist in the past five years. The commission will hold a series of public hearings to review various ethics laws and make final recommendations by March 31, 2020.
"These measures are just the start of ethics reform in Springfield," Murphy said. "I plan to go further in the upcoming session."
House Joint Resolution 93 takes effect immediately and Senate Bill 1639 awaits the governor's signature.