Published: Tuesday, May 30, 2017 02:30 PM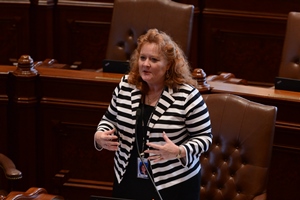 SPRINGFIELD- State Senator Laura Murphy (D-Des Plaines) issued the following statement after she voted to support a two-year property tax freeze. The package proposal, made up of Senate Bills 482 and 484, passed the Senate with bipartisan votes of 38-11-9 and 37-11-9, respectively.
"The number one complaint I hear from my constituents is the skyrocketing property taxes are forcing them out of their homes, and they have requested action by the legislature to stop this trend.
"Today, I am proud to stand with my colleagues, and even some Republicans, who supported freezing property taxes. This bill is a start to long overdue property tax relief to homeowners in the Northwest suburbs.
"I encourage the Illinois House and Governor Rauner to quickly pass and sign this legislation to give Illinois families a break."
###