Published: Friday, April 28, 2017 03:54 PM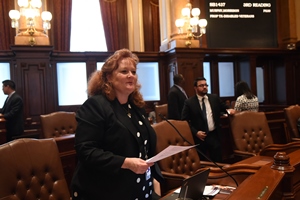 SPRINGFIELD- In response to a Park Ridge developer who sued residents for speaking against his potential project, no longer will residents who voice their concerns at public meetings be subject to lawsuits thanks to legislation advanced by state Senator Laura Murphy (D-Des Plaines).
"Everyone should be able to express their concerns in a public forum; it's a fundamental right under the First Amendment," Murphy said. "Unfortunately, state law is now unclear. This proposal protects the rights of citizens so they no longer will face retribution for standing up for their best interests at a public hearing."
Because of ambiguity under current law, about 20 residents were named as defendants when the developer filed suit to overturn the commission's decision to reject the plan.
Murphy's legislation, Senate Bill 731, passed the Senate 57-0 and will head to the Illinois House for consideration.