Published: Tuesday, May 01, 2018 02:59 PM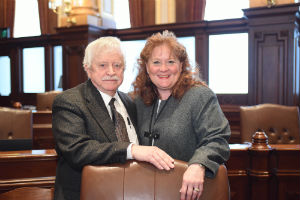 The Senate today approved a measure sponsored by State Senator Laura Murphy (D-Des Plaines) declaring May 1, 2018, Lyme Disease Awareness Day in Illinois.

"I hope that by sponsoring this resolution more people will learn how to spot tick bites and the symptoms of Lyme disease," Murphy said. "Illinoisans need to know the dangers of this disease."

Lyme disease is caused by a bacterial infection transmitted to humans through the bite of an infected tick. Symptoms include a fever, headache and skin rash. If Lyme disease is not treated, the infection can spread to the heart, nervous system and joints.

"Lyme disease can be treated if caught early," Murphy said. "Lyme disease does not only affect hikers and hunters. Increasingly, people are being infected in their homes by mice carrying infected ticks."

According to the Centers for Disease Control and Prevention, 30,000 Americans report being infected with Lyme disease each year but there could be as many as 300,000 cases annually.

Not all ticks carry the bacterium that causes Lyme disease, and it is not possible to tell by sight which ticks are infected.

The CDC reports that people with Lyme disease can fully recover if they are treated with antibiotics in the early stages of illness.