Published: Thursday, October 26, 2017 08:56 AM
Senate overrides governor's veto of SB 1351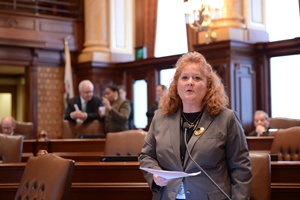 SPRINGFIELD — State Senator Laura Murphy (D-Des Plaines) issued the following statement on the Senate's override of the governor's veto of legislation barring loan servicers from participating in any unfair or deceptive practices toward borrowers or cosigners:
"This is an important step to protect students and student loan cosigners from the predatory practices of loan service providers. There is undoubtedly more work to be done to address the issue of student loans and student loan debt. I will continue to work with my colleagues to address these issues which are crippling students and families across the state."
Senate Bill 1351, co-sponsored by Murphy, passed the Senate with a vote of 37-19. It now moves to the House for further consideration.
###