Published: Thursday, April 07, 2016 04:15 PM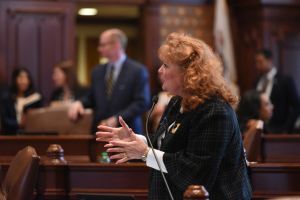 SPRINGFIELD – Many businesses offer discounts to veterans to thank them for their service to our country. Unfortunately, occasionally non-veterans will pose as military members to try to take advantage of these discounts.
To cut down on people falsely impersonating veterans, State Senator Laura Murphy (D-Des Plaines) passed legislation through the Illinois Senate today to make it a petty offense to falsely impersonate a veteran. The proposal, Senate Bill 2167, was also her first bill.
"Veterans have given so much for our country we need to make sure their sacrifices are not taken advantage of by people trying to scam the system for their own financial gain," Murphy said.
If the proposal is signed into law, Illinois will join several other states including Alabama, Massachusetts, New Jersey, Pennsylvania and Wisconsin to have similar "Stolen Valor" laws.
Murphy's legislation passed the Senate with an overwhelming bipartisan vote and will now head to the Illinois House.