Published: Monday, May 01, 2017 02:59 PM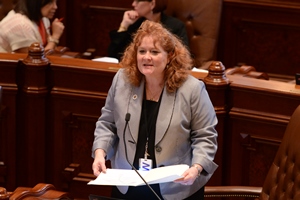 SPRINGFIELD- In the midst of a year of nearly record gun violence in Chicago, the Illinois Senate passed legislation to require gun dealers to obtain a state license. The license can be revoked or the dealership fined if the dealer is involved with the sale of illegal firearms, similar to laws in place in 26 other states.
State Senator Laura Murphy (D-Des Plaines) was a co-sponsor of the legislation.
"Every week, kids across the country are being needlessly killed by gun violence. This common sense measure will keep guns out of the hands of criminals and save lives in our own neighborhoods," Murphy said.
The legislation, backed by the Council Against Handgun Violence and the Illinois Gun Violence Prevention Coalition, seeks to prevent corrupt gun dealers from selling guns to criminals.
Over the last several years the coalition has found that:
• 17 percent of all gun crimes in Chicago come from just three of the state's 2,400 gun dealers.
• 40 percent of guns used in crimes between 2009 and 2014 came from Illinois.
• Of the top 120 firearm dealers that sold guns used in a crime between 1996 and 2000, thirteen dealers were located in Illinois – the second most of any state.
The legislation passed the Illinois Senate and will now head to the Illinois House for consideration.