Published: Saturday, November 11, 2017 06:57 PM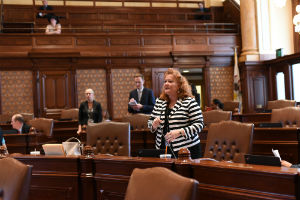 State Senator Laura Murphy (D-Des Plaines) championed legislation to support the United States' priority to bring every fallen service member home.

"I believe that returning fallen soldiers to their families is incredibly important," Murphy said. "These men and women made the ultimate sacrifice for our country and should be returned to their families if possible."

An estimated 83,000 American service members are currently considered missing in action. Soldiers that do not return home are classified as Prisoners of War, Missing in Action or Died in Captivity.

The legislation also urges Congress to reestablish the select committee on POW/MIA affairs to investigate the process of recovering fallen United States service members.
"I hope that by urging Congress to prioritize bringing our troops home, more families who have lost loved ones will find closure," said Murphy.

Murphy also co-sponsored a Senate resolution to encourage Illinois communities to participate in the Vietnam Veterans Memorial Foundations' "Wall of Faces" project. This project seeks to locate photos of service members who died in action or went missing during the Vietnam War. The photos for 479 Illinois soldiers have not yet been recovered.