Published: Tuesday, October 24, 2017 03:39 PM
Senate overrides governor's veto of SB 1905
SPRINGFIELD — State Senator Laura Murphy (D-Des Plaines) issued the following statement on her vote to override the governor's veto of SB 1905, which would prohibit local governments from introducing "right-to-work" ordinances: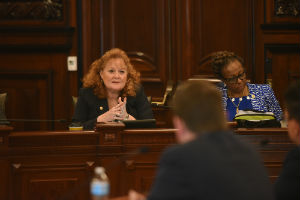 "Today I voted to support working class men and women and their right to collectively bargain. Since taking office, the governor has attempted to roll back employees' rights and weaken the unions on the backs of which this state was built. All employees benefit from collective bargaining, even those that do not participate in organized labor. I hope this vote sends a strong message to the governor that I will not support his attack on the middle class."
Murphy is a co-sponsor of Senate Bill 1905. The legislation now moves to the House for consideration.