Published: Wednesday, April 11, 2018 05:42 PM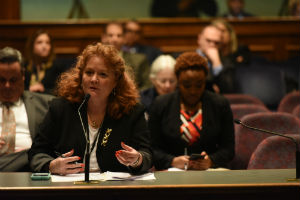 Today State Senator Laura Murphy pushed back against the Rauner administration by advancing a Medicaid managed care transparency measure he previously vetoed.
"The governor made a mistake when he rejected this proposal and attempted to put a multibillion dollar industry before taxpayers and Medicaid recipients," Murphy (D-Des Plaines) said. "I couldn't stand for that. I will continue to fight for transparency in Medicaid managed care programs."

Senate Bill 2447 requires the auditor general to conduct a performance audit of the Department of Healthcare and Family Services' Medicaid managed care program by Jan. 1, 2019.

The audit would probe whether DHFS has developed and applied standardized quality performance measures to Medicaid Managed Care Entities. It would also examine if the department has implemented measures to automatically assign Medicaid patients into managed care entities.

Performance audits can only be conducted at the request of the General Assembly or the Audit Commission, Murphy noted.

"The governor thought that this type of audit could be conducted as part of an existing investigation, but that's not how it works," she said. "I want to ensure the Medicaid managed care program operated by the Rauner administration is effectively using taxpayer dollars. This is one of the state's largest contracts. It deserves a closer look."

This transparency measure was formerly Senate Bill 321, which Murphy proposed last year. The governor vetoed it Sept. 22, 2017.