Published: Monday, August 14, 2017 12:57 PM
SPRINGFIELD – Legislation sponsored by State Senator Laura Murphy (D-Des Plaines) to protect individuals who speak out at public zoning appeal hearings from being sued was recently signed into law. Senate Bill 731 expands provisions regarding reviews of zoning board of appeals decisions to all municipalities, not just Chicago.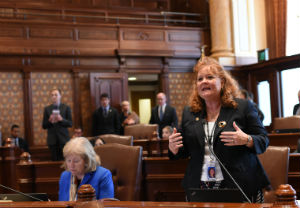 "Community members have a right to voice their opinions at zoning hearings without fear of being sued," Murphy said. "Community input is an important aspect of zoning decisions. This legislation strengthens freedom of speech protections in reviews of zoning board of appeals decisions."

Senate Bill 731 clarifies that only the zoning board of appeals and applicants that come before the board are considered a "party of record." The legislation also states that notice must be provided to participants in a zoning hearing of their ability to intervene.

"I hope this law encourages more people to voice their concerns without fear of reprisal," Murphy said.

This legislation was developed following a constituent inquiry. It goes into effect on Jan. 1, 2018.